Phosphor Screens
At Dr. Gassler Electron Devices we are using several different technologies to coat a substrate with phosphor: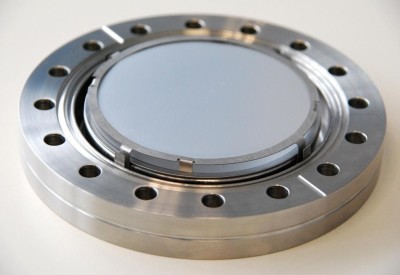 Sedimentation - the phosphor grains are "glued" together with Potassium-Silicate. Screen thickness can be adjusted from 10 -100 µm
Serigraphic printing - the phosphor is printed through a few micrometer wide mesh onto the substrate. Particle size typically 2-8 µm, screen thickness from a few to 20 µm adjustable, this process delivers phosphor coatings with very high brightness and resolution
Brushing - the phosphor is pressed with a specific rotating foam into a thin layer of glue. Suitable for small screens from 5 to 30 millimeter diameter, phosphor coatings with particle size 2-3 µm are very dense with high resolution
We always have a wide range of various phosphors with different particle sizes on stock. Coating can be done on all kinds of substrates; Glass, X-Ray protection lead glass, Borosilicate glass, aluminum, stainless steel ….
We can provide two different ways to ensure the electrical contact of the plate:
ITO Coating directly onto the substrate. Typically, the ITO coating is sputtered onto the glass substrate, followed by a printed phosphor layer on top.
The phosphor is printed directly to the glass and is covered with a thin layer of evaporated aluminum. The electron beam passes easily through the aluminum. The light created by the phosphor is reflected by the aluminum towards the viewer direction and increases the brightness. Additionally, all disturbing light from a glowing substrate is blocked by the aluminum and contrast is significantly enhanced.

RHEED Screen Holder
RHEED-Screens are very sensitive against any kind of contacts by fingertips, screwdriver or tweezers. The phosphor surface can be damaged quite easily.
That's why we created our own "Easy-to-use"- RHEED Screen Holder. No tools are required to mount the RHEED Screen, therefore no unintentional damages can hurt your new RHEED Screen. A detailed Manual how to mount a screen is delivered with each holder.
We can supply RHEED Screen Holder for all standard screen diameter of 36 mm, 55 mm, 93 mm and 135 mm

Custom designed Phosphor Coatings
Our decades of experience in all kinds of phosphor coatings allows us to offer the best suitable technique also for a bit exotic application. Whenever your application or set up requires the visualization of a charged particles beam, we may be able to coat your part with the scintillator you need.
In close co-operation with our partners we develop individual phosphor coatings on almost every suitable substrate, shape or design – from single pieces to serial production.

Just tell us your requirement and together we will find a solution.

Dr.Gassler Electron Devices manufactures its RHEED Screens on its own production line. Not only standard sizes, but almost all formats and specialities can be realized within short terms.

Our screens are manufactured with a serigraphic printing machine either on Borosilicate glass Bor33 or on X-Ray protection glass RD50. Therefore typically no additional X-Ray protection glass is needed in front of your MBE view port.

For conduction we can provide a direct ITO coating on the glass or an aluminium coating on the back of the phosphor. This aluminium back coating yields in a significant higher light output to the viewer. All light which otherwise would be lost towards the vacuum chamber gets immediately reflected to the viewers direction. Additionally all light produced in the chamber from glowing substrates or elsewhere, is blocked by the optical dense aluminium coating, resulting in a much better contrast.

Our RHEED screens are individually boxed and protected between 2 spherical glass plates to avoid any damage during shipment and storage.

Please see below our list of standard RHEED Screens. If you do not find your type of screen, just send us the details of the screen you are looking for.

| Article # | Glass type | Diameter (mm) | Thickness (mm) | Phosphor | Color | Conductivity via | Remarks |
| --- | --- | --- | --- | --- | --- | --- | --- |
| 1030 | Borosilicate | 52 | 3.2 | P43 | Green | Aluminum | |
| 1037 | Borosilicate | 93 | 3.2 | P43 | Green | Aluminum | 20 mm free Sector |
| 1017 | Borosilicate | 93 | 3.2 | P43 | Green | Aluminum | |
| 1023 | Borosilicate | 93 | 3.2 | P43 | Green | Aluminum | 30 mm free Sector |
| 1027 | Borosilicate | 93 | 3.2 | P11 | Blue | Aluminum | 30 mm free Sector |
| 1026 | Borosilicate | 140 | 3.2 | P43 | Green | Aluminum | |
| | | | | | | | |
| 1019 | Borosilicate | 93 | 3.2 | P1 | Green | ITO | |
| 1020 | Borosilicate | 93 | 3.2 | P11 | Blue | ITO | |
| 1021 | Borosilicate | 93 | 3.2 | P1 | Green | ITO | |
| 1035 | Borosilicate | 93 | 3.2 | P15 | Green | ITO | |
| 1028 | Borosilicate | 135 | 3.2 | P1 | Green | ITO | |
| 1015 | Borosilicate | 143 | 3.2 | P43 | Green | ITO | |
| 1029 | Borosilicate | 143 | 3.2 | P1 | Green | ITO | |
| | | | | | | | |
| 1006 | F2 | 36 | 5 | P43 | Green | Aluminum | |
| 1007 | F2 | 55 | 5 | P43 | Green | Aluminum | |
| 1008 | F2 | 93 | 5 | P43 | Green | Aluminum | |
| 1009 | F2 | 135 | 5 | P43 | Green | Aluminum | |
| | | | | | | | |
| 1010 | F2 | 36 | 5 | P43 | Green | ITO | |
| 1011 | F2 | 55 | 5 | P43 | Green | ITO | |
| 1012 | F2 | 93 | 5 | P43 | Green | ITO | |
| 1034 | F2 | 93 | 5 | P11 | Blue | ITO | |
| 1013 | F2 | 135 | 5 | P43 | Green | ITO | |
| | | | | | | | |
| 1005 | RD50 | 36 | 5 | P43 | Green | Aluminum | |
| 1004 | RD50 | 55 | 5 | P43 | Green | Aluminum | |
| 1022 | RD50 | 61 | 5 | P43 | Green | Aluminum | |
| 1002 | RD50 | 93 | 5 | P43 | Green | Aluminum | |
| 1031 | RD50 | 93 | 5 | P43 | Green | Aluminum | 30 mm free Sector |
| 1032 | RD50 | 93 | 5 | P43 | Green | Aluminum | 20 mm free Sector |
| 1033 | RD50 | 93 | 5 | P43 | Green | Aluminum | Praseodym activated |
| 1036 | RD50 | 93 | 5 | P11 | Blue | Aluminum | |
| 1018 | RD50 | 100 | 5 | P43 | Green | Aluminum | |
| 1003 | RD50 | 135 | 5 | P43 | Green | Aluminum | |
| 1016 | RD50 | 135 | 5 | P43 | Green | Aluminum | Praseodym activated |
| | | | | | | | |
| 1014 | RD50 | 93 | 5 | P43 | Green | ITO | |
| 1025 | RD50 | 93 | 5 | P11 | Blue | ITO | |
| 1024 | RD50 | 135 | 5 | P43 | Green | ITO | |